Sixty-four (64) triangles per panel bring more benefits
Dec 27, 2019
During recent months we have been working on a massive amount of prototypes and continually assessing product iterations. At some points, we realized that there are several improvements, which could make the setup process easier, improve look&feel and user experience, display richer visual effects or increase product versatility.
On the SKY's development path, we have faced a lot of technological challenges and improved the inner architecture of light surfaces, but also we found some improvements that hugely evolve the product itself. 
Making a perfect SKY for your space
As you probably know, LaMetric SKY is the company's second product. With our flagship product, LaMetric TIME, we pioneered the smart clock category and created the most versatile smart clock for your home and office. Continuing in the same vein, we set a goal to make SKY as perfect as TIME is. Having accepted this challenge, we aimed to create an art masterpiece and deliver the richest visual effects possible.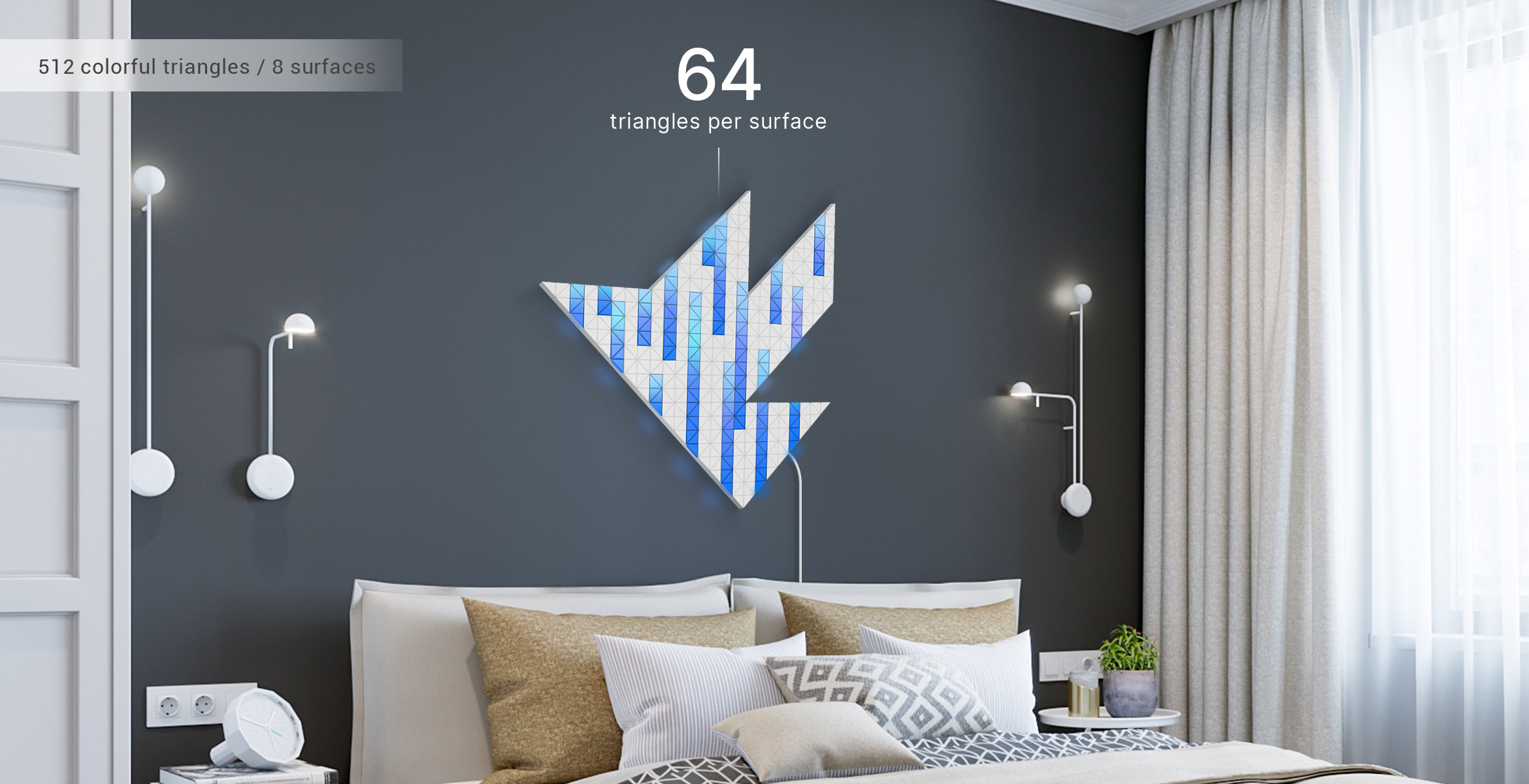 Richer visual effects with two times more triangles per surface
When we were working on SKY, we strived to make the visual effects nicer and more eye-catching. So we tried to increase the number of colorful triangles on every surface from 32 to 64. It led us to higher resolution and, as a result, much richer light effects. Now you can see more sunbeams when using "sunbeam" effect, more beautiful and accurate rainbow in "rainbow" effect, more saturated leaves rustle with "spring" effect and feel even more excitement from all other beautiful light effects.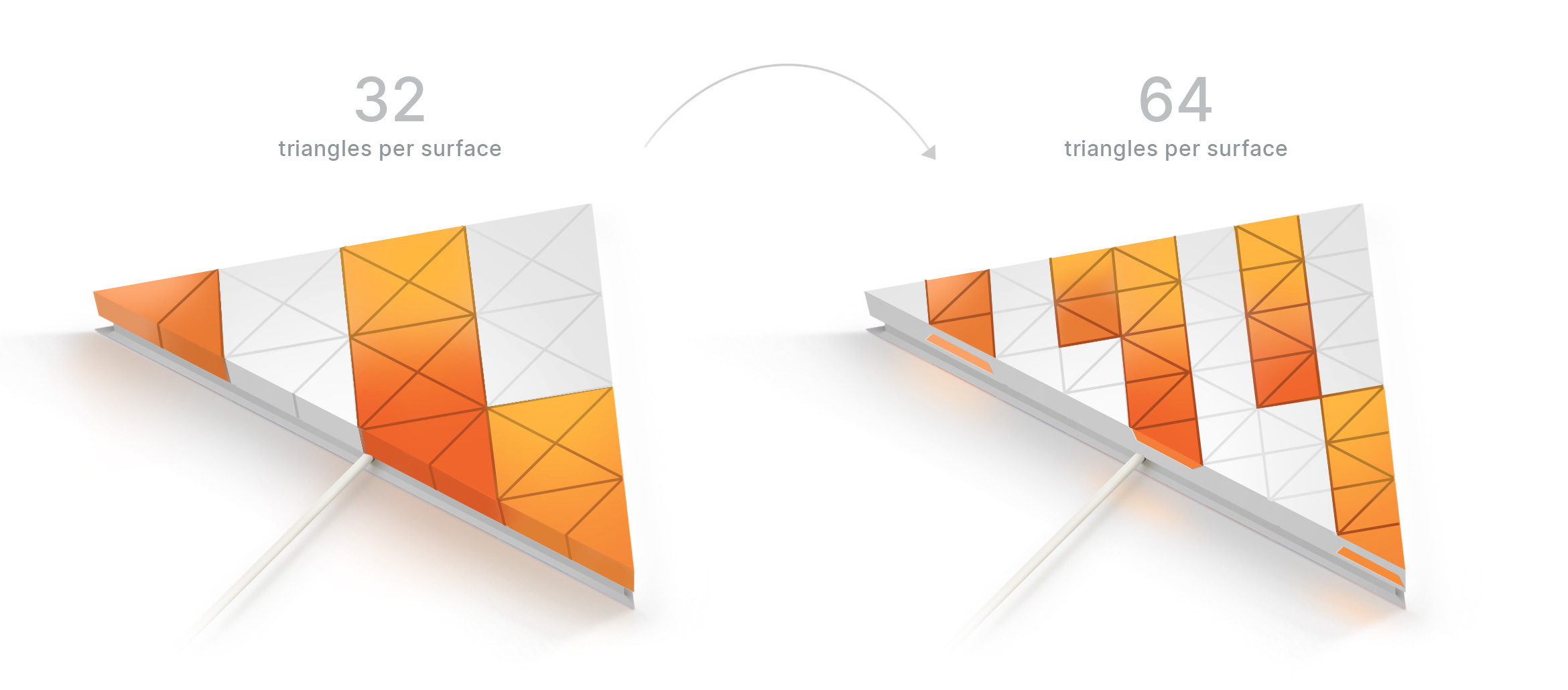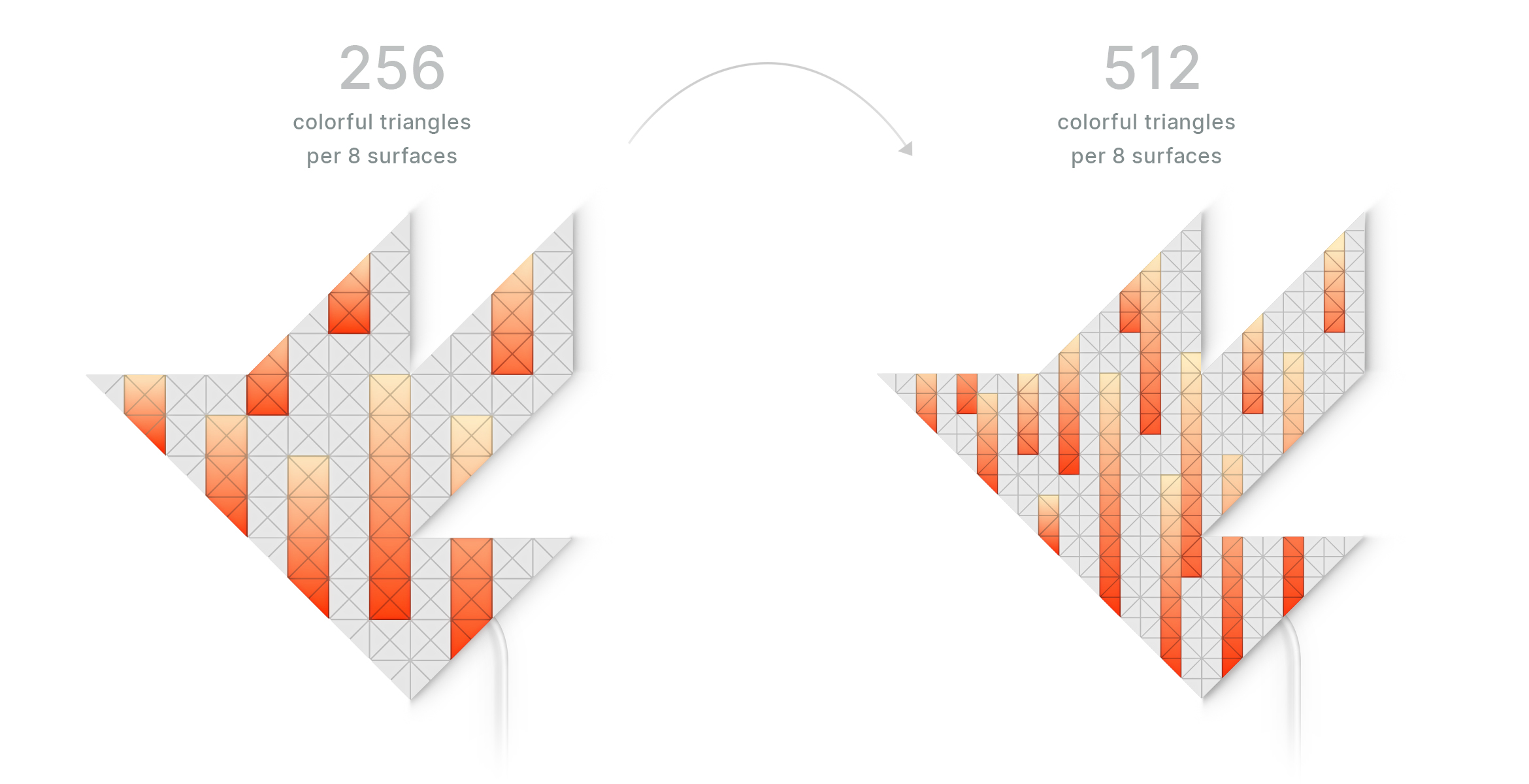 Fewer panels - more possibilities
This improvement would also allow assembling a SKY face and display beautiful icons and animations from only 2 light surfaces!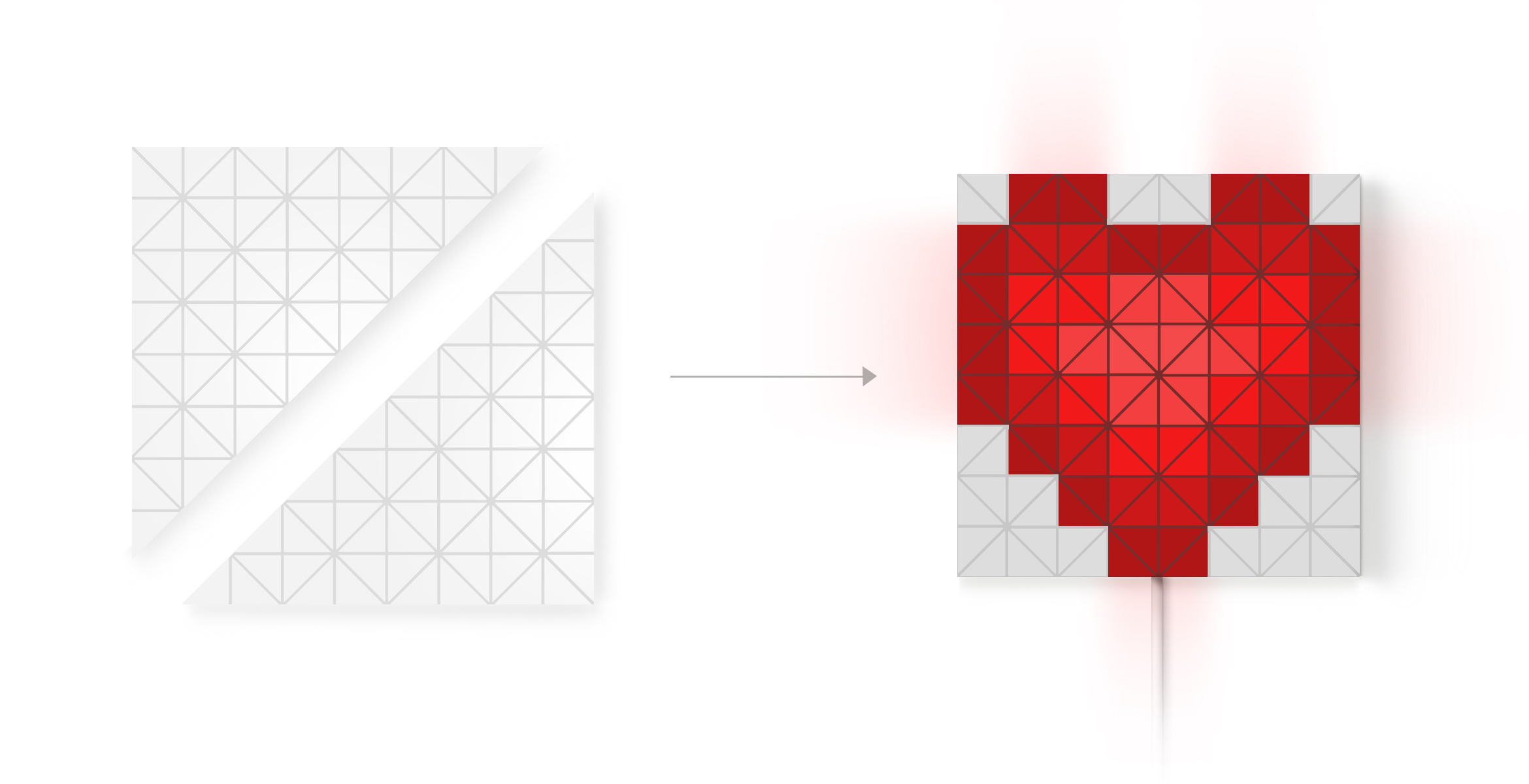 We also wanted to allow having a full product functionality with spending less and achieve a lower price of an informational display, as well as making its setup faster. Doubling the number of colorful triangles (from 32 to 64) on each surface made it possible to assemble an informational display from two times fewer light surfaces, only 8 instead of 16. Now, having even 8 light surfaces, you will be able to explore the full spectrum of the LaMetric SKY versatility! 
In the meantime, a set of 16 light surfaces allows assembling a bigger informative screen for the big and spacious rooms and offices. On the other hand, you can assemble a wider display with a higher resolution and choose between 10, 12, 14 and 16 light surfaces to find a perfect fit for your interior and room size. Thanks to doubling the number of colorful triangles on each surface, you can now display on the screen up to two times more text or digits than before! At last, still, only the owners of 16 light surfaces, will be able to enjoy the beautiful Tangram mosaics, which became even more attractive and eye-catching!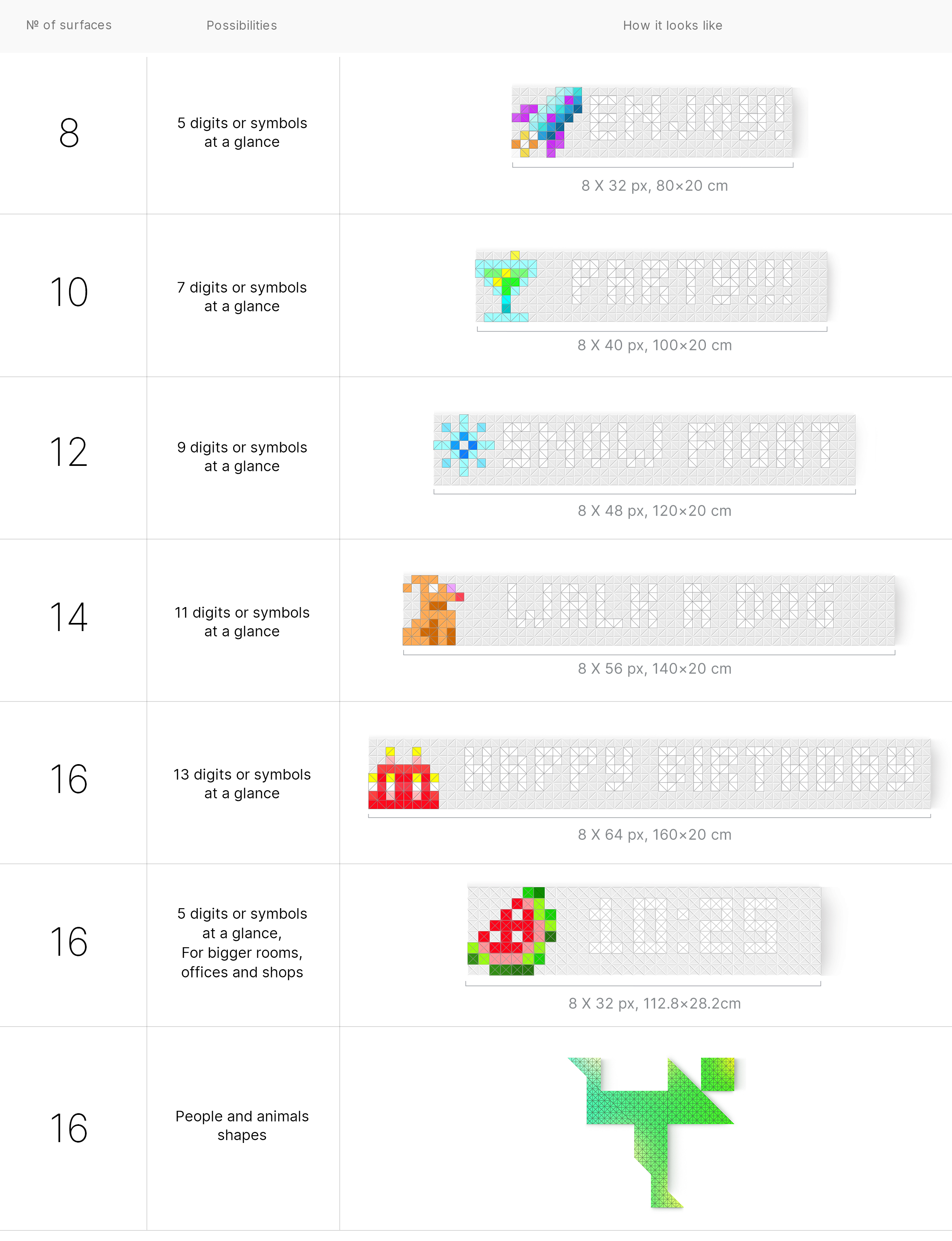 Score twice before you cut once
We invested lots of effort to create a completely elegant product (both from the outside and from the inside), as well as easy to set up. Also, we aimed to double the number of triangles per surface to make the light effects more fascinating. And that's only a little part of everything that was done to make SKY the perfect lighting product ever created and here you can check all product improvements during the latest months.
New pricing structure
Along with these wonderful product improvements, product cost has raised and we have to slightly change the prices for LaMetric SKY sets, which now look like as follows:
LaMetric SKY 2 - $199
LaMetric SKY 4 - $308 
LaMetric SKY 6 - $417 
LaMetric SKY 8 - $526 
LaMetric SKY 16 - $962 
IMPORTANT: For backers, who have already pre-ordered the product, the prices remain the same.
P.S. The new price structure and product description will be reflected on the website soon.
Unfortunately, every small change takes some time. That's why we are forced to make a small shift in the shipping date of SKY and postpone it to Spring 2020. We took this responsibility and made a conscious decision to have the possibility to create a perfect lighting product that will bring even more satisfaction than you expect.  
The shipping date for the second batch remains the same, so all backers will receive SKY in Spring, however, the first batch will be delivered a bit earlier allowing the first pioneers to touch and feel the product first hand.
We invite you to stay tuned and to know about all the latest updates from our social media or from the blog. 
Best regards,
LaMetric Team